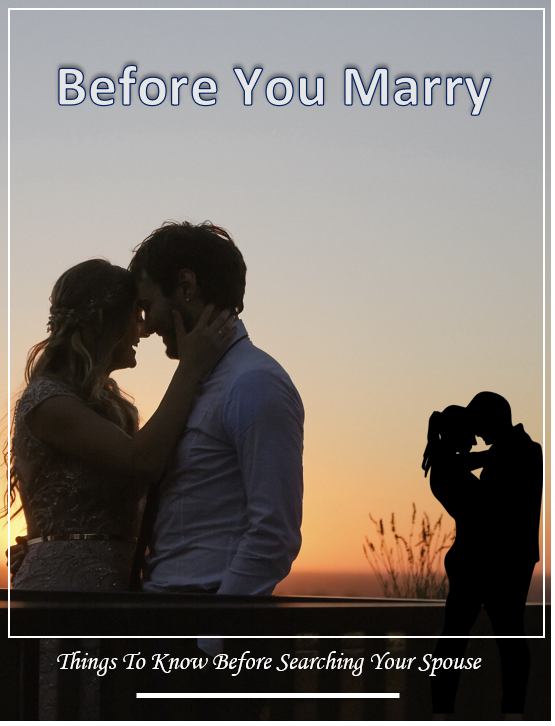 Why do most marriages fail? Check the stats. Latest CDC survey data reveal there is a divorce ''every 42 seconds'' in the US. Of the ''2.2 million marriages in EU-28 in 2015, 946,000 ended in divorce''—Eurostat. Shelly and Sarah's research ''across 33 sub-Saharan African countries shows 20% of first unions end in divorce.'' Christian divorce data is ''about the same as the general population''—Ron Sider's research. As the world tramples upon good social norms, how many remaining marriages hang on by a thread? Wish you make a difference with your own marriage. The solution is to confront marriage with the right perspective. That's why you should read Before You Marry: Things To Know Before Searching Your Spouse. Here's what you discover in Before You Marry:
The principal reasons for unfulfilled marriages.
How to self-examine your beliefs on marriage considering Scripture.
Discover how to unveil motives of potential spouses you encounter.
How you generate Holy Spirit inspired approaches to know your spouse in your context.
Learn to channel your capacities towards achieving the divine assignments for the marriage.
The final product you get is God's will for you and a marriage shining bright enough to illuminate the dark world round you. Why desire something else? Before You Marry adds value to your marriage journey and motivates you to live its purpose.
God has a unique plan with your life. He wants to build a special relationship of trust with you. He wants to use you to accomplish specific things. But some things can prevent you from fulfilling God's purpose. Discover and go around them.
Biblical Revelations guide Theological Revelations, not the other way round. If your objectives for studying Theology aren't properly defined, it can have devastating effects on your spiritual life. This small book exposes some tips to consider before studying Theology.
God wants you to bear fruits worthy of repentance. He wants you to go great exploits. But many believers live a fruitless life. This small book introduces practical approaches from Scripture to help you bear fruits and live a fulfilled life in Jesus Christ.
What does it mean to be born again? Why and how can you be born again? What happens when a person is born again? This book guides you to discover these answers in the Bible.
God still speaks today. He hasn't changed. But many don't hear His voice. It's God's will we hear His voice and do His will. The Bible has a lot to say about Godly guidance. This book contains tips on how to recognize God's voice.
The Bible's claims are unique. They trouble many a philosopher. It's content is true, verifiable and authentic. There're many reasons why you should study and live by Biblical principles. Discover them.